PI Thilo Womelsdorf (Assoc. Prof., Vanderbilt University, Dep. of Psychology) 

; Researcher Profiles are available from Google Scholar, ResearcherID and ResearchGate. And where I came from: Neurotree.
Dr. Wolf Zinke

 – Postdoctoral Fellow, Researcher Profile
Wolf works on a collaborative project with Dr. Anita Disney (Vanderbilt Univ.) on neuropharmacological characterization of cholinergic and norepinephrinergic modulation of attention effects within and between neural circuits in parieto-occipitaq cortex.
---
Dr. Marcus Watson

– Research Scientist, Researcher Profile available at ResearchGate
Marcus works on projects elucidating how we learn to accurately categorize and classify objects, how we learn the relevance of different object features for these categorization tasks, and how these two forms of learning interact with each other.
---
Phd cand. Mariann Oemisch

(Biology)
Mariann is a three times awardee of the prestigious Ontario Graduate Studies (OGS) Fellowships.

Her work focuses on the neuronal correlates of learning in prefrontal-striatal brain circuits.
---
Phd cand. Benjamin Voloh (MSc)  (Vanderbilt Univ., Dep. of Psychology)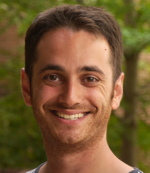 ---
Phd cand. Ali Hassani

(Vanderbilt Univ., Dep. of Psychology)
Ali works on the role of noradrenergic receptor activation for the gating of attentional relevant information in prefrontal-striatal brain circuits.

Ali is recipient of the 2016 prestigious NSERC student fellowship.
---
MSc Marzyeh Samira (Sam) Azimi

, Research Assistant
After her MSc thesis in the lab Sam is now Research Assistant working on the pharmacological influences on flexible attentional behaviour in learning and attention tasks.

Sam carried the prestigious Queens Elizabeth II Graduate Scholarship in 2016/2017 !
---
Dr. Christopher Thomas

– Technical Consultant, WWW hompage
Christopher is conceptualizing, designing, and validating novel experimental set-ups. His work includes the integration of video-engine and eye tracking data into a full experimental suite for testing human and nonhuman subjects on naturalistic tasks; the synchronized multi-camera monitoring of complex behavior during experiments; and the development of advanced electrophysiolgical recording and stimulation set up.
---
Dr. Hongjing Wang

---
BSc. cand. Milad Naghizadeh

Research Assistant
Milad works on characterizing the saliency of 3D objects in simulated 3D environments and the role of saliency for attention performance during learning.
---